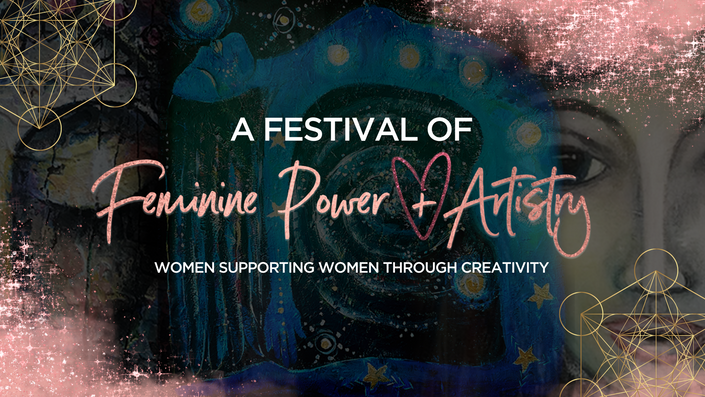 A Festival of Feminine Power & Artistry
Where women get to delight in their authentic selves through a sacred painting practice.
I am SO happy you are here!
Please allow me to share my message with you in the video below...
#festivaloffemininepowerandartistry
On February 10th, 2022, I was in my studio painting, journaling, pulling cards for each month of 2022 and asking myself,
"What do I want to create MORE of this year?"
The answer was immediate.
"I want to collaborate with my Creatively Fit Coaches more.
I want to use our art as activism… ARTivism.
I want to help women in need."
Literally within seconds I received the words:
A FESTIVAL OF FEMININE POWER & ARTISTRY
Literally. It was handed to me just like that. Complete... an "Unstoppable Dream" being offered to me to birth into the world.
I said yes! I hope you will too - this is a collective creation!
Now, I want to invite you to step into this circle, this FESTIVAL with me and change lives…
…our own lives,…the lives of those we will reach with our "share + ripple,"
…and the lives of women around the world who are suffering right now.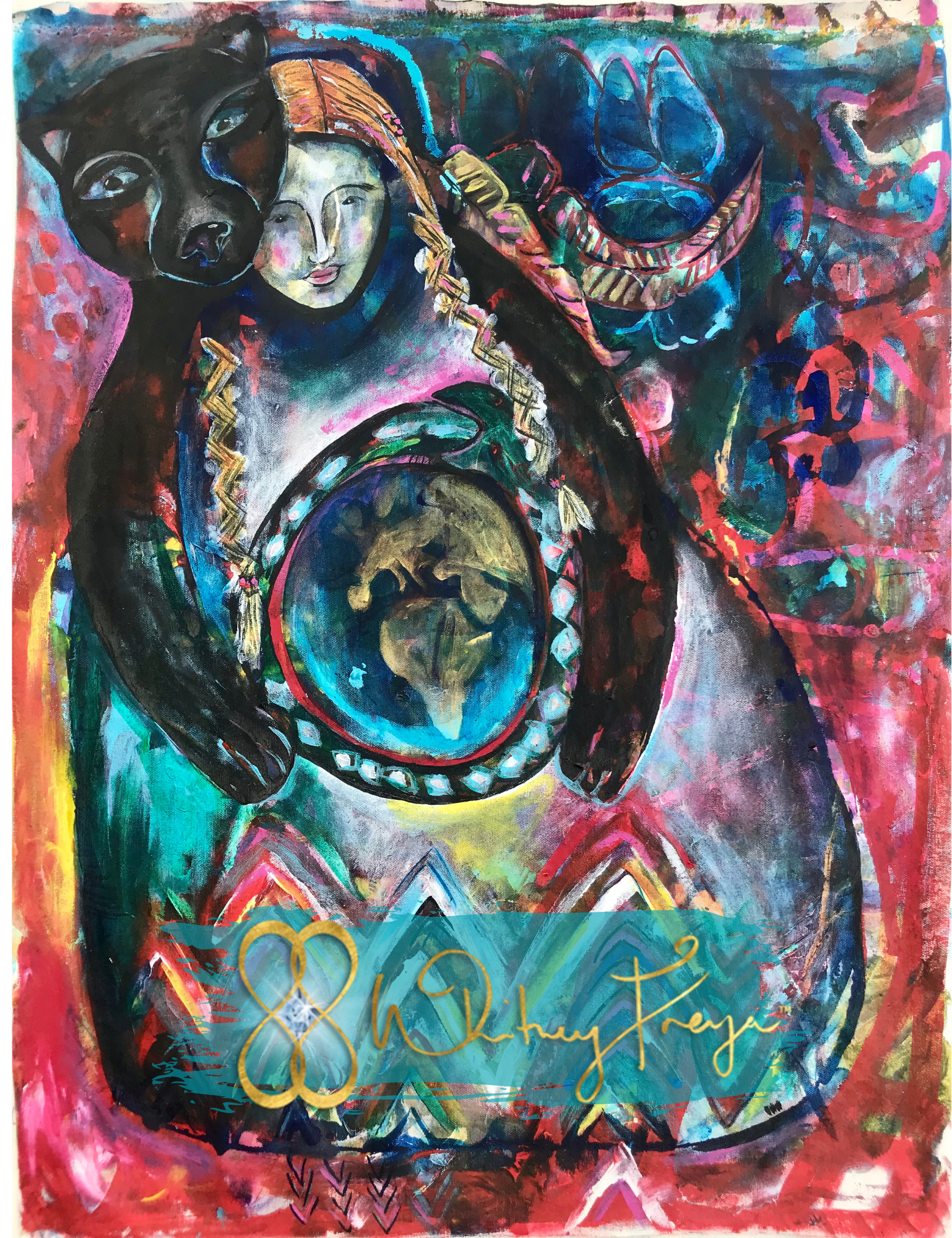 A Festival of Feminine Power + Artistry is an online course...
...with 21 different painting workshops, taught by 21 different Creatively Fit Coaches & a few Special Guests.
...within which you get to explore your own Feminine Power + Artistry, as each featured teacher shares how she is connecting to her Feminine Power + Artistry.
...that invites you into a deeper knowing of who you are and what makes you SO awesome!
..in which each of the 21, approximately 60 minute workshops, explores an aspect of Feminine Power + Artistry, and / or a specific Goddess who represents a pantheon of Feminine Power + Artistry.
...where I will be painting a Goddess Freya who has empowered me to reclaim my own personal sovereignty, abundance and much more in my workshop.
...in which you can explore the Creatrix archetype with Creatively Fit Coach Colleen Talbot and the qualities of the Empress with Creatively Fit Coach Desiree East.
...with Special Guest Teacher Tahverlee Anglen painting the Witch Goddess.
...with Karen Adamski, Shama Mama, and CCFC, painting Grandmother Moon.
...in which you and CCFC Kim Sales, Lantern Light Studio, can paint the Goddess Brigid together.
...that will include an interview with me & each featured teacher, released throughout April and May 2022, to expand upon how the knowing we discover during our painting practice can ripple out into the art that is our lives.
...that requires ZERO painting experience. We have a whole lesson just for beginner painters to help you "remember" the basics quick & easy! This "studio" specializes in creating safe, supportive and inspiring space for ALL Life Artists.
Here are some examples of the paintings created in the Festival lessons by our Featured Teachers...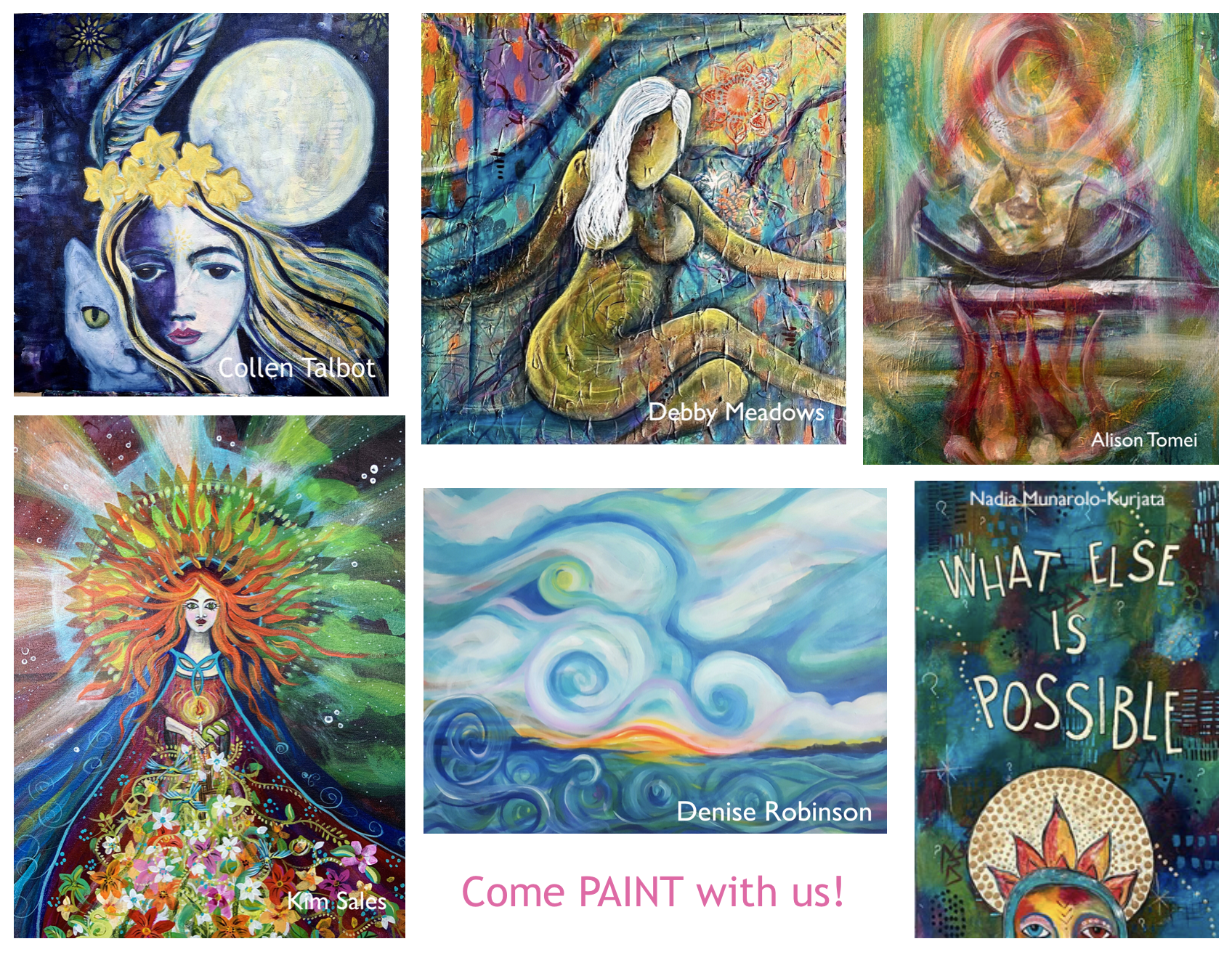 Exploring your Feminine POWER + ARTISTRY is about getting to know more of who you are.
Allow me to introduce you to one of my favorite expressions of Feminine Power + Artistry...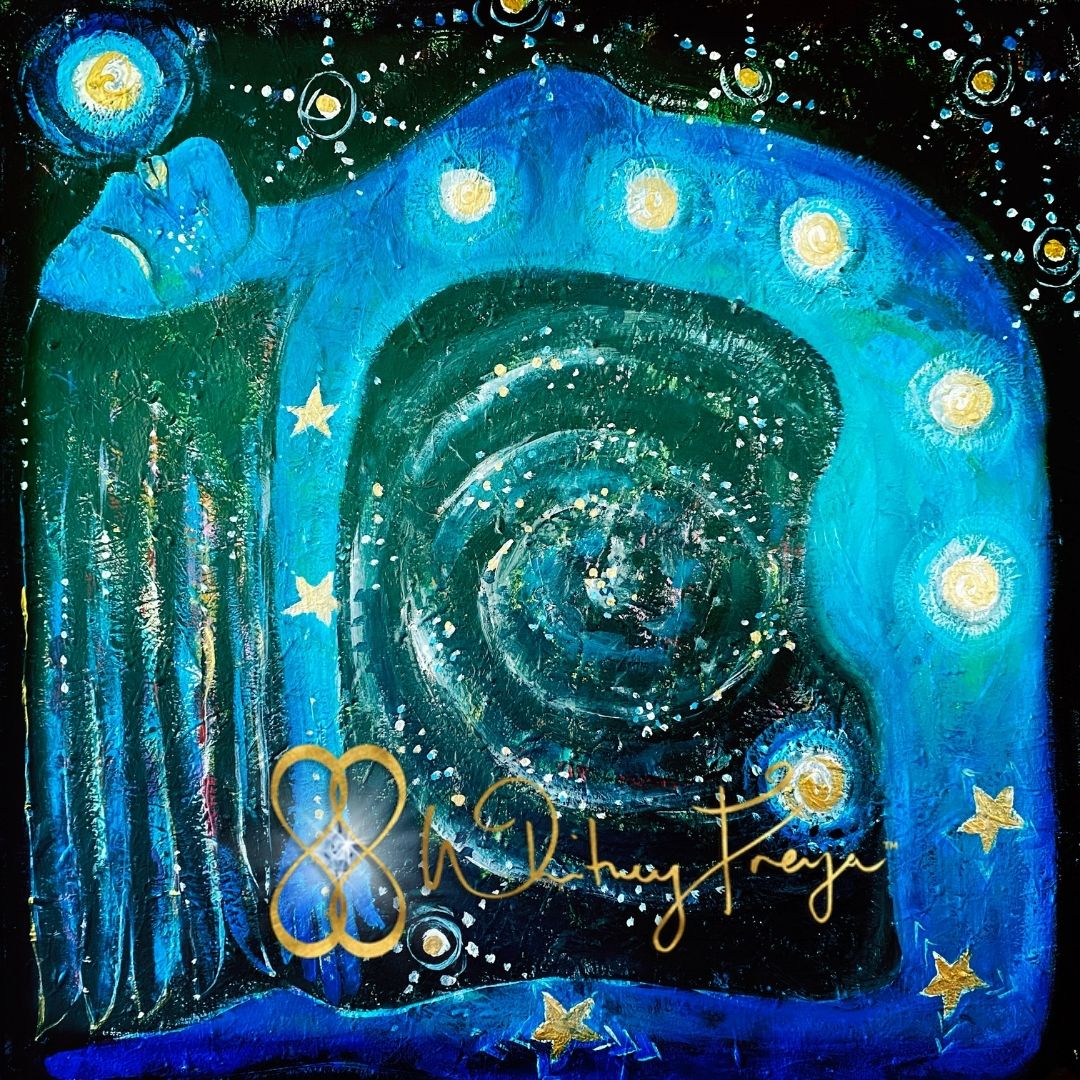 I want to share a personal example of how learning more about the feminine superpowers leads to learning more about your truest self...
The painting above is of the Goddess Nut from the Egyptian pantheon.

She is the Sky Goddess, the birther of worlds and infinite space.
In 1991 I got to visit a tomb in Egypt dedicated to Nut.
I remember being in awe of how BLUE the indigo paint was on the walls of the tomb, even though it was over 2500 years old!
The gold stars on the deep blue ceiling of the tomb spoke to me of the dance between death and the infinite, spaciousness and the material.
7 years later I painted my stepson's room with a blue, starry ceiling.
About 17 years later, a shaman friend told me that my energetic "fingerprint" was of the same frequency as Nut.
I love ALL the ways we can "swallow" the sun each evening (allow the sun to set at the end of a day, a chapter in our lives, an outdated belief or pattern) and birth a NEW day each morning (start again, creating our reality from new wisdom, new perspectives...).
I believe we have access to this infinite spaciousness, pure possibility, when we summon up the courage to reach beyond the known, into the mystery.
I believe we are holographic, the part containing the whole, and have universes to explore within.
I paint NUT to connect to this frequency, this indwelling knowing within me.
What might shift in your life when you remember how to celebrate YOUR *FEMININE POWER + ARTISTRY!?
How many times have you heard, "Don't be such a girl!" or "That's girly"?

We weren't raised into a knowing of the power of the feminine...
...the power to give and create and nurture LIFE.
...the power to lead and "rule" from the heART.
...the power to create space for others to thrive and bloom.
...the power to destroy and deconstruct if space is needed for new beginnings, more love, more compassion.
...the power to hunt and pursue our most expressive and abundant life.
...the power to transform.
...the power to live in harmony with Mother eARTh and Her elementals.
...the power to call forth healing, possibility, magic, miracles, love, compassion... from the other side of the veil.
...the power of deep, intuitive knowing, unencumbered by personal agendas and biased, sourced from the only infinite energy, love.
...the power to be a vessel for the divine (in word, action and deed).
...the power to embody and create beauty.
...the power to create celebrations, rituals, ceremonies, and rites of passage.
...the power to give birth (in all aspects of the word) and midwife this for others.
...the power to speak from a place of righteous, protective anger in order that the highest and greatest good is served.
...the power to heal schisms.
...the power to commune with the subtle energies.
...the power to teach timeless truths.
...the power to bridge differences and create union.
...the power to thrive in the darkness, to see clearly in spite of the shadows.
...the power to CREATE, to embody SHAKTI, to solve problems, to innovate change...to heal.
*Men & Women each have masculine & feminine qualities. The goal for each of us is a perfect balance of the two... like dance partners.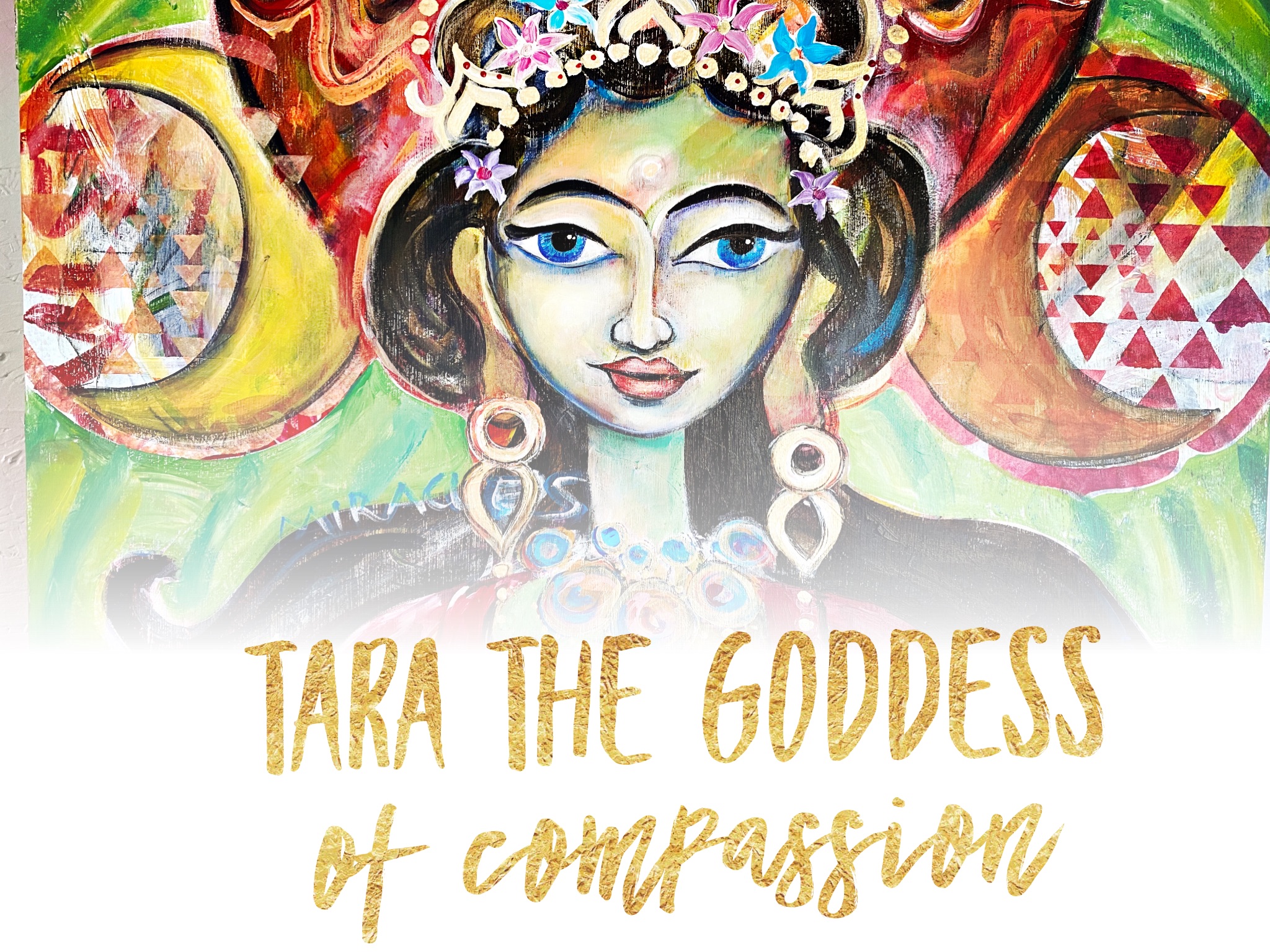 And in the spirit of *TARA, we are committed to as many beings as possible benefiting from our own personal empowerment.
This is why, we will be donating a minimum of 70% of net proceeds from this Festival to a fund committed to ending FGM, Female Genital Mutilation.
THE EFUA DORKENOO FUND TO END
FEMALE GENITAL MUTILATION (FGM)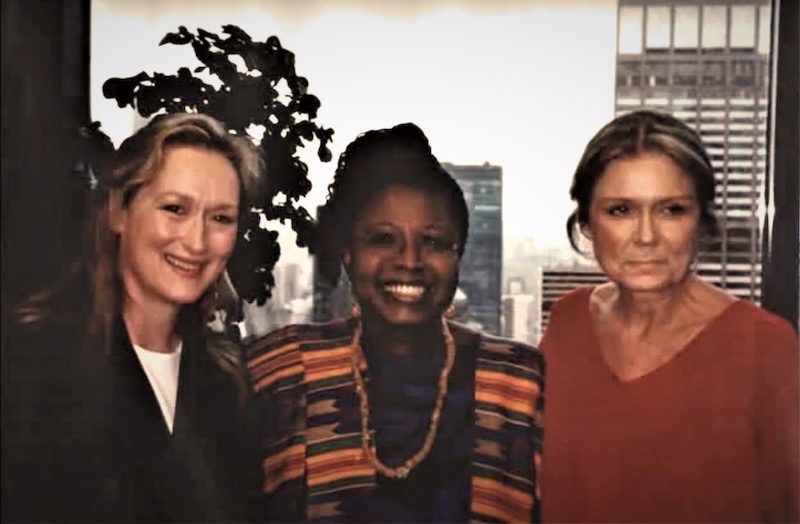 Efua Dorkenoo (1949-2014), shown here with Meryl Streep and Gloria Steinem
Launched in 2017, Donor Direct Action's Efua Dorkenoo Fund to End Female Genital Mutilation supports front line women's rights activists who have a long and proven track record of success in advocating for an end to FGM.

From empowering girls, educating communities, advocating for policy reform, providing shelter, and working for legal reform and law enforcement, these activists have laid the groundwork to end FGM.
They simply need the resources to scale up their work, based on decades of experience during which great progress has been made to end this harmful traditional practice. The Efua Dorkenoo Fund to End FGM currently has 5 grantees from Burkina Faso, The Gambia, Kenya, Sierra Leone and Somalia.
You can learn more about this organization HERE.


*The 22 Day TARA Painting Meditation Course has been life changing for so many of us. Explore this course HERE.
The collective here at WhitneyFreyaStudio.com also supports 7 women in the Women for Women International program and supports 5 orphans at R.I.S.E. Orphanage in Puerto Vallarta, Mexico. Thank you!
FGM (FEMALE GENITAL MUTILATION)
causes lifelong medical and psychological harm and in some cases immediate death from hemorrhage or infection.
are at risk of undergoing FGM in 2020.
Together we can raise enough money to help hundreds of girls escape FGM. Thank you for joining us in this collective movement to liberate ALL women so they can create the life they desire!
Your Coach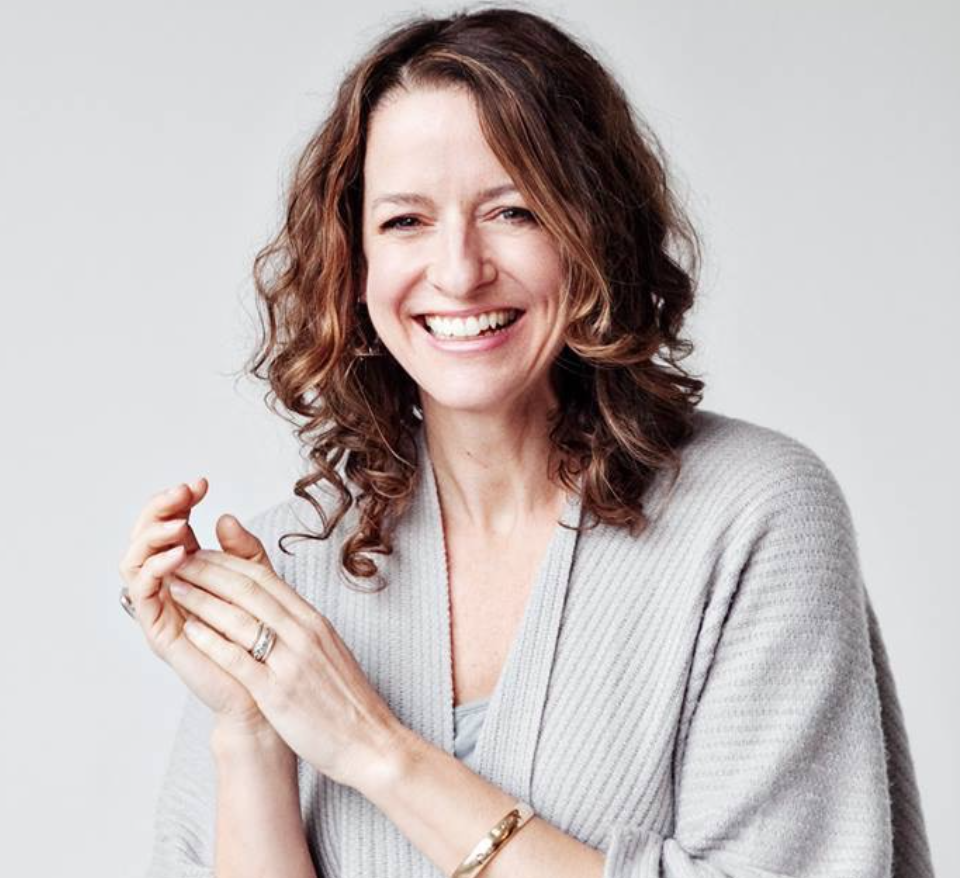 Whitney Freya is a published author, artist, entrepreneur & creative muse. Her latest book is 30 Days to Unstoppable, Be the Dream Made Visible and Rise Above, Free Your Mind One Brush Stroke at a Time was published in 2017. Unstoppable is a meditative journey of self-empowerment and Rise Above is an explosion of color, painting prompts and inspirational teaching for Life Artists!
Her unique approach to personal creativity has garnered her international media attention, including CBS news & appearances alongside Dr. Wayne Dyer, Donna Eden & more. She leads her international team of Creatively Fit Coaches who share her passion for living life as art. Whitney Freya has taught at The Esalen Institute, around the world at creativity conferences, Burning Man, Awesomeness Fest, and at Agape Spiritual Center. A % of her biz proceeds goes to supporting five children at R.I.S.E. Orphanage in Puerto Vallarta, Mexico and seven women through the Women for Women Foundation.
Whitney Freya is the creatress behind all the programs here in the "Studio." She devotes her 1-on-1 and personal attention to her Creatively Fit Coaches, her I AM the Unstoppable Dream course and her 1-on-1 clients. Be sure to check out her YOUtube channel as well.
My greatest desire is for you to become intimate with ALL that is available to you.
YOU are here to create a life that lights you up from the inside out.
And may that light guide others into their own heARTs, that they too may live their most expressive & authentic life.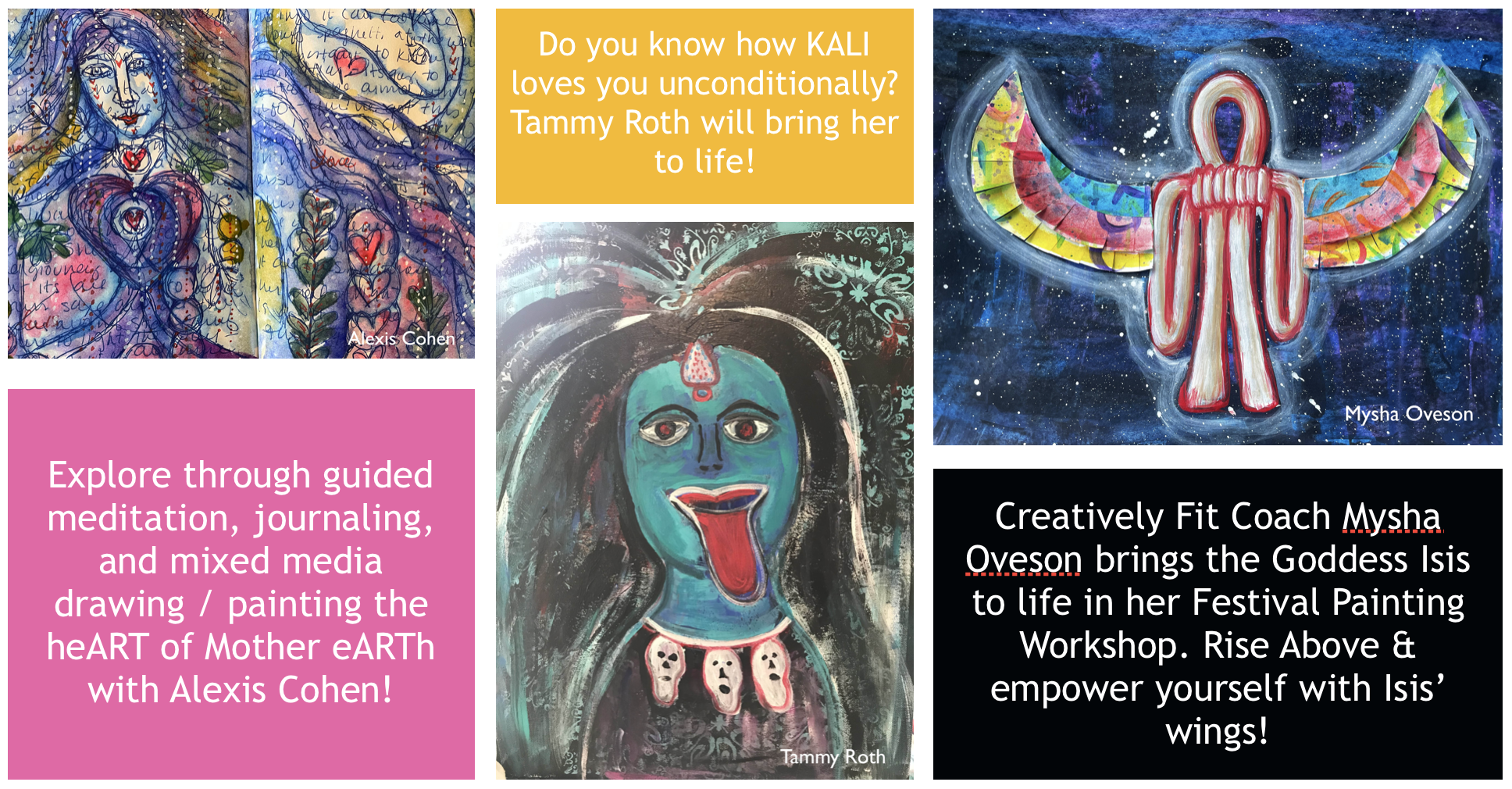 FEATURED TEACHERS
Creatively Fit Coaches: Karen Admamski . Colleen Talbot . Nadia Munarolo - Kurjata . Kim Sales . Antonella Bargione . Debby Meadows . Desiree East . Lisa Buyer . Tammy Roth . Tiffany Josephs . Mysha Oveson . Janice Gallant . Alison Tomei . Denise Robinson Adrienne Stohr - Lewis . Diane Mainz . Michelle Walker
Special Guests: Alexis Cohen . Tahverlee Anglen . Lainie Love Dalby
Course
Welcome to the Festival of Feminine Power + Artistry!
Available in days
days after you enroll
Whitney Freya popping in to say... (weekly'ish check-ins & updates!)
Available in days
days after you enroll
Goddess Freya . Personal Sovereignty
Available in days
days after you enroll
Frequently Asked Questions
When does the course start and finish?
The course goes live April 1st, 2022 and never ends! Not only that, but throughout 2022 we will be adding new Video Painting Workshops and Inspired Interviews to this course. It is a completely self-paced online course - you decide when you start and when you finish.
How long do I have access to the course?
How does lifetime access sound? After enrolling, you have unlimited access to this course for as long as you like - across any and all devices you own.
What if I am unhappy with the course?
We would never want you to be unhappy! If you are unsatisfied with your purchase, contact us in the first 30 days and we will give you a full refund.