My NEWEST online experience, inspired by the launch of my 4th book, 30 Days to Unstoppable & its NEW Companion Journal is now open for enrollment! My publisher, Astara Jane Ashley and I want to circle up with you to experience the new Companion Journal for 7 months, starting November 1st, 2021.
Scroll down to "Featured Courses" to learn more!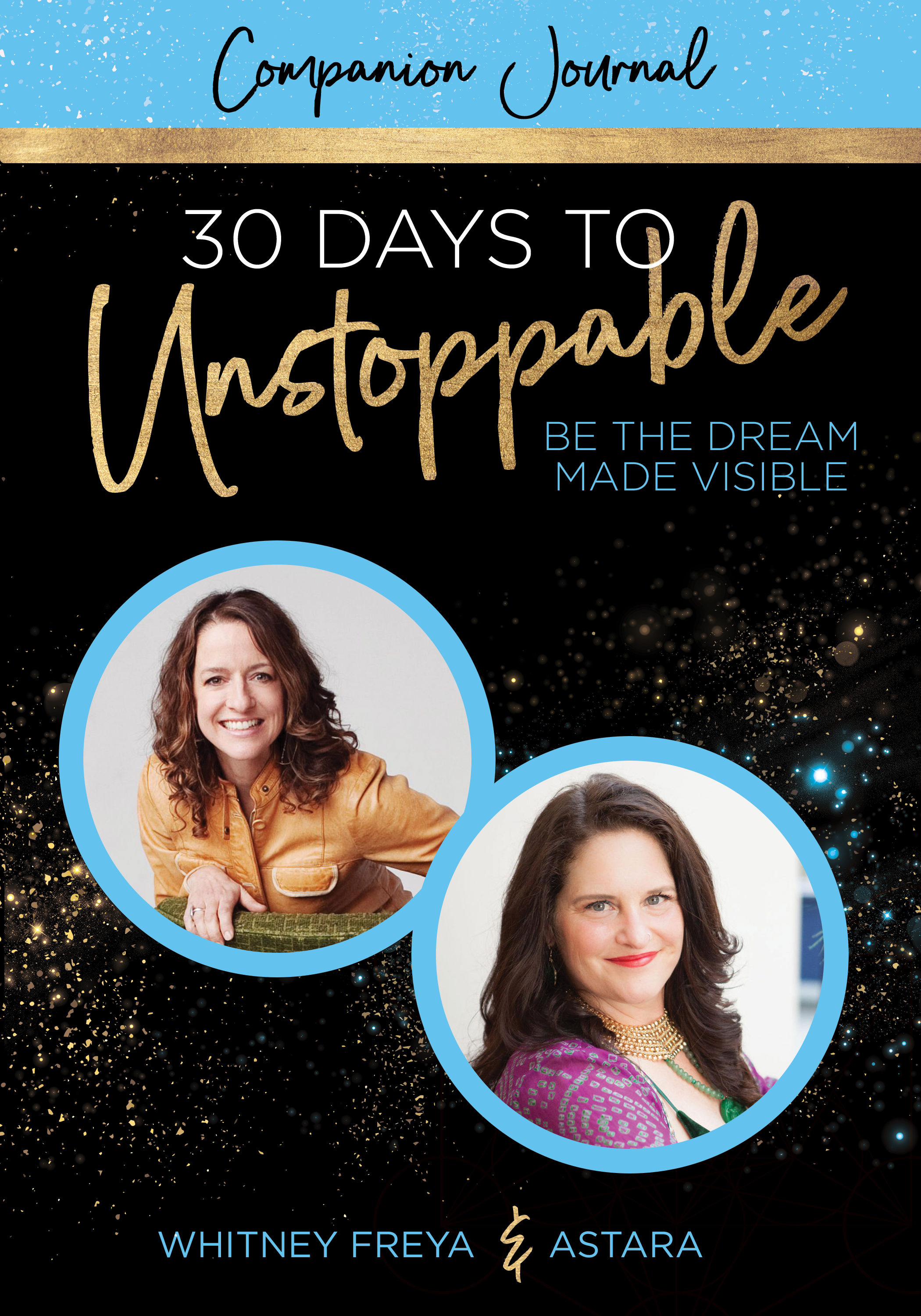 Your next personal breakthrough will NOT be logical!
In 1996 I opened an art center with ZERO art training. I was out of my MIND...
In 1996, with zero art training--I had not even painted on a canvas or taken an art class since I was 15-- I was deeply called to create a safe & inspiring space where people could come to learn how to create at the canvas so that what they learned in art class would inspire & empower the art that is their life.

I was 26 years old and committed to creating my own magical life. After graduating from the University of Michigan and going off to sell books door-to-door for the next 4 summers, I was VERY clear that life was MUCH more like a blank canvas than a multiple-choice test!
I had been given the understanding in a moment of clarity, a classic ah-ha or lightbulb moment, that we are meant to live our lives as art. So, with money I made selling books door-to-door in Walla Walla, WA during the summer of 1995, I bought a run-down, crack house in an up and coming commercial neighborhood in Nashville, TN. After months of knuckle-swelling renovations, on May 1st, 1996 (24 years ago!), I opened The Creative Fitness Center.
Fast forward… what we are experiencing today in this world is a result of forgetting the truth of our roles as Life Artists. We were conditioned to work, to achieve, to live up to others expectations, to fill roles that others deemed "appropriate," and to expect life to be a battle, a struggle...and what the world needs now is to get Creatively Fit.
We are now remembering that we are ALL artists and that the art we are creating in each and every moment is our life and we are either doing it with or without awareness.
What we are experiencing right now is the result of the masses living and creating reality without awareness.
It will now take the masses to remember how to create life WITH awareness.
This is why, since 2010, I have been training individuals, other optimistic, idealistic, and action-oriented healer / teacher souls like me, who understand or feel, or who just know somehow inexplicably, that art making and life making and happiness and personal fulfillment can be seeded, expanded, and ultimately created into our life experience starting at the canvas.
It is SO MUCH MORE FUN to be a part of a movement, to create change together, in community, cheering each other on while celebrating our "wild & crazy" ideas! We are a tribe and we are opening up the training to dramatically expand our creative reach.
This could be exactly what you have been looking for!


Click HERE to access all the replays from our April Pop-up Open Studios!

In case you would like a bit of guidance...
Suggested "Track" #1:
You are JUST getting started on your creative journey.

Start with the 21 Day Painting Meditation Challenge. (watercolors used in this course)
Then, the 22 Day TARA Painting Meditation Challenge is a magical journey.
Next, enjoy the Buddha Painting Program to create your OM as you paint and learn foundational painting technique.
Now, the studio is all yours! Maybe an Art Gypsy course is next or Vision Quest!
Suggested "Track" #2:
You are looking for to expand or deepen your creative AND spiritual journey.

Inspired by my latest book, 30 Days to Unstoppable, Be the Dream Made Visible, and what I have heard from so many of you about wanting to really dive into your life as a spiritual journey, a co-creative experience with your Infinite Self, I have bundled I AM the Unstoppable Dream and Super Soul Flow into one, 7-month experience. You can enroll in this course at ANY time and you have lifetime access. I just want to be sure that you devote at least 7 months to your deepest transformation. Go HERE to feel into this course.
AND there is an I AM the Unstoppable Dream for women in recovery! This is led by Creatively Fit Coach, client of 24 years, and psychotherapist, Tammy Roth, supported by myself, Whitney Freya. GO HERE for this special course.
One "brush stroke" can transform your world!
If you are interested in learning how to develop (or expanding) your own Sacred Personal Painting Practice that will empower and inspire you as a Life Artist and help you to take one step at a time (one brush stroke at a time) towards your most authentic and self-expressive future, you have found the right "studio!"
Transformational times call for transformation on all levels. Join me in any of my online courses to be a part of the POSITIVE ripple effect of this global pandemic. Together we will step out even more courageously to share our heARTs and empower others to create change!
Please click VIEW ALL COURSES above to feel into which course is calling you now. I am SO happy you are here!