Instructions for heART ORBITs heARTISTS...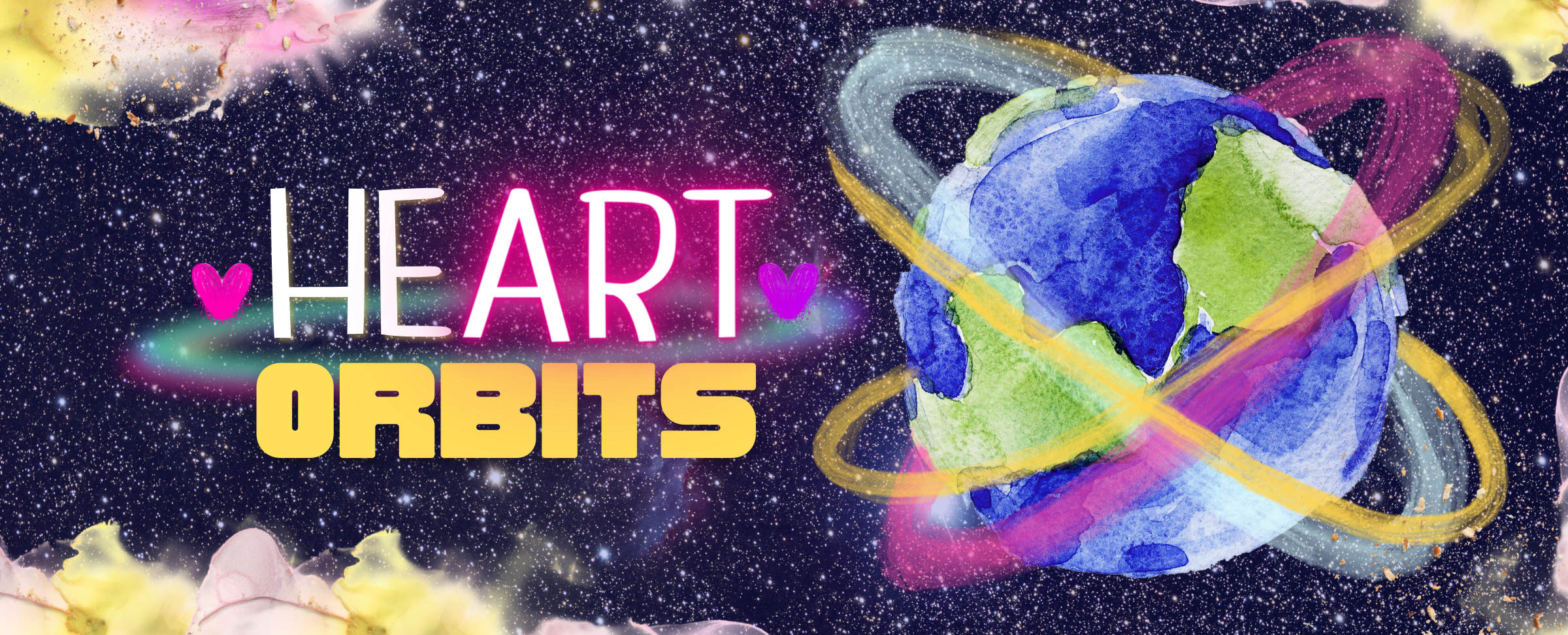 First, the VISION!
heART ORBITs alchemized - thanks to many different ideas and inspirations over the years. Most recently, our I AM the Unstoppable Dream online community visioned into collaborative canvases that we shipped to each other, each Life Artist taking her/his turn to co-create a finished piece.
In live workshops, I have loved watching each person paint on each canvas. It always inspires an activation around detachment and gives us an opportunity to witness our egos wanting to possess and control the creative process. Not a BAD thing, just something to be aware of.
I also have danced with the idea for years of some sort of painting challenge, where the prompt is. song, or song lyric. Each heART ORBITs canvas has a song to simply serve as inspiration, a prompt, or a golden thread that connects each ARTIST'S experience. The songs are not meant to be restrictive in ANY way -- only inspirational! I will be reaching out to each artist to let them know we are inspired by their song and using it as inspiration for this ARTreach. Between that communication and tagging each performer on social media, it will be interesting to see who engages and how!
And then there is the beauty of visual art being used as a form of activism, or ARTivism. It is an ARTreach. The truth is that it is ONLY our Creative Spirits that are going to guide us over the threshold of a world based in fear to one based in love. We want AS MUCH creative energy swirling around our globe as possible, to promote connection and community. When I understood that we would name each canvas, like hurricanes, I loved the energy of these canvases creating hurricane like vortexes of energy!
Thank you for joining us an adding your heART to our ORBIT!

When can we start ORBITing the globe?

We have shipped the first 7 canvases and they are orbiting the globe!
(Their are 7 artists per 1 heART ORBIT canvas)
What you want to know to make the most of our heART ORBITs experience!
Step-by-step...
SHARING ON SOCIAL MEDIA: So many fun ways to share heART ORBITS with your community first lets start with an unboxing video - Easy fun and simple to do!
Video's should be shot in the format the social media account your are using recommends - for example if you plan on posting videos on Instagram & FaceBook, record them in a vertical format or holding your phone in and upright position for reels and stories. Let's get started unpacking!


Video yourself opening the heART ORBITS package - and share how excited you are to be apart of such a fun and global artreach project! Not only are you spreading your love of art globally but you are spreading the LOVE to the charity, with 50% of the proceeds going to Women for Women International. It's that easy . . . BOOM first video done! Now post it on all of your social media accounts using #heARTORBITs to share every step of the journey!


Shoot the BEFORE you start video - you will receive a canvas that already has some beautiful art on it so make sure to share what you receive and how it makes you feel. Talk about the song that is the inspiration for your next layer then post it with #heARTORBITs . . . woo hoo 2nd video in the bag!


Take lots of still shots along the way - you can use them in single posts and you can string them together to make a reel on instagram! SO FUN to do.


heARTists post your photos and share your story under the canvas you worked on! Unfortunately Teachable does not allow videos to be uploaded into posts, be sure to share those on your personal FB page and social sites as well as the Heart Orbits FB page!
YOUR OWN PAINTING EXPERIENCE: Now is the really fun part record your self PAINTING to the music/song that is associated with your heART ORBIT canvas. Each canvas has a unique song to listen to and gather inspiration from - now get your paints ready, hit play and groove to the music while you paint!
Video your PAINTING PROCESS - tell your community why you love being apart of the this global artreach program, tell them about the symbols and marks you are making to the music what inspirted you and why. you know whats next POST IT with the #heARTORBITs to follow the art orbit around the globe. Post your videos in the Heart Orbits FB Group!


Shoot the AFTER you finish video when you unveil your beautiful art layer - now that you're done, share your layer. You could share a photo or a video. You could share what you learned from your painting time at this canvas or what intentions, energy, etc. you painted into the canvas. Speak from your heART! Tell your story what is like to be a part of a shared artreach project and where you are shipping the painting too next! Post it (you guessed it) with #heARTORBITs


heARTists don't forget to sign the back to share your love with planet!


Get ready to ship it to the next heARTist - Just contact Susan Kizaric at this email:

[email protected]

and she will email you back with the instructions and the prepaid label. So all you have to do is pack it up, print the label, and drop it off for shipping. (you do not need a label printer, I used copy paper and covered it with clear shipping tape) And around the Orbit it goes!!!




Complete and Continue