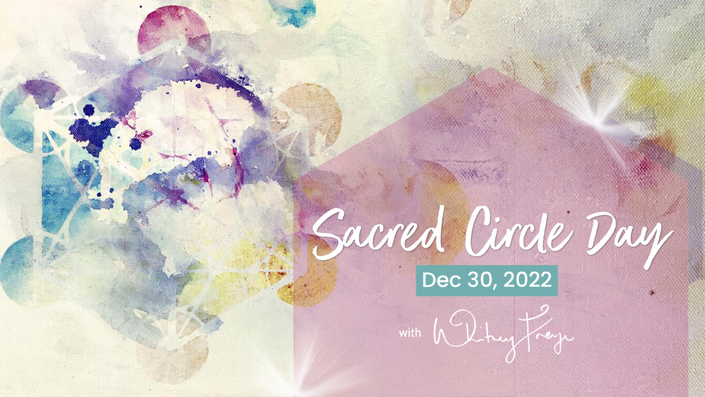 SACRED CIRCLE DAY WITH WHITNEY FREYA
"…we were made for these times.
Yes. For years, we have been learning, practicing, been in training for and just waiting to meet on this exact plain of engagement. I cannot tell you often enough that we are definitely the leaders we have been waiting for, and that we have been raised, since childhood, for this time precisely."
~ Clara Pinkola Estes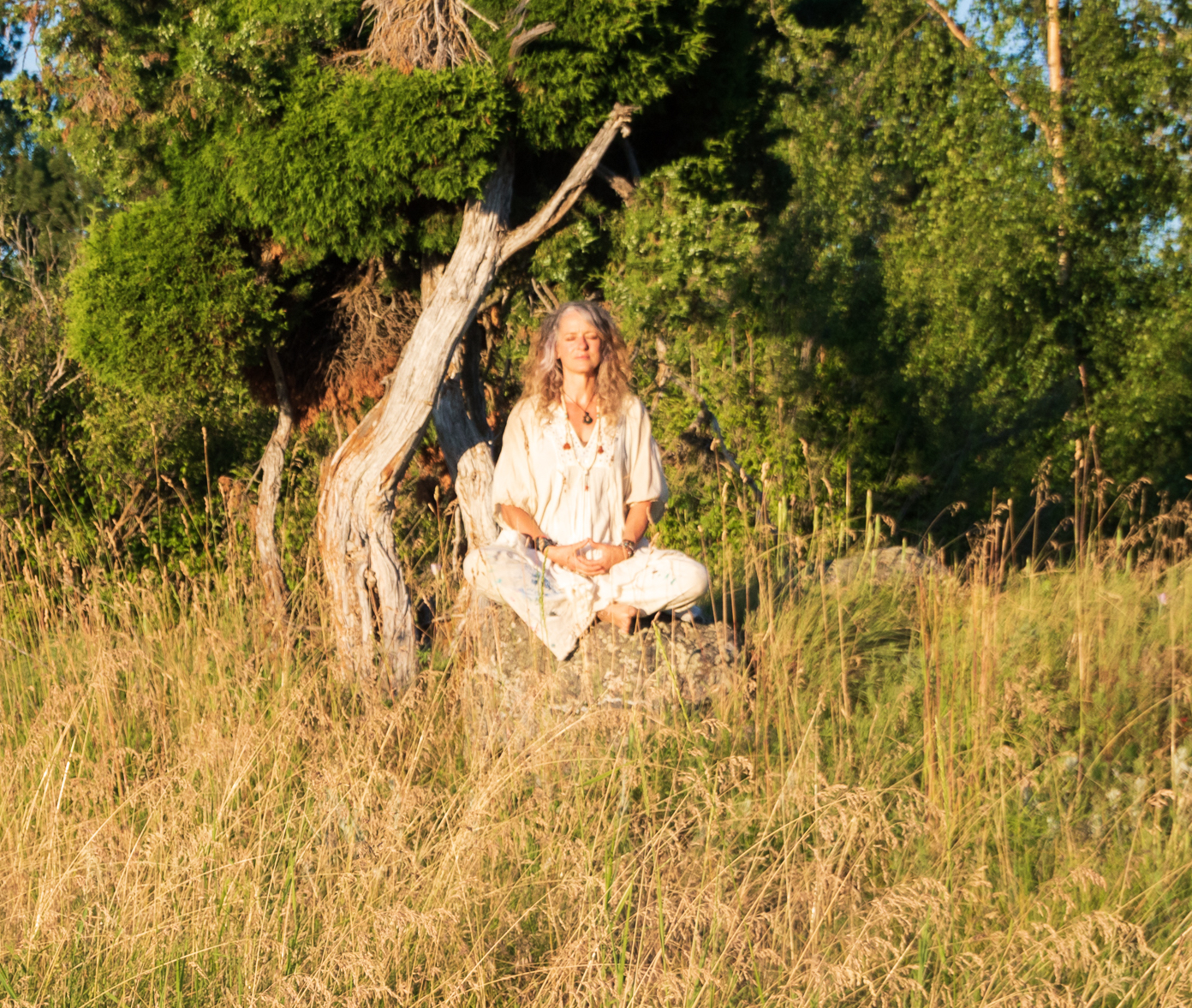 I created Sacred Circle Days to give us an opportunity to slow down and devote one day to creating sacred space within which we can reflect, ground, and refine our vision for our year ahead.
The truth is we each have all the best intentions of honoring the art that is our life and then life gets in the way and we don't do it? I know I don't unless I really set aside time and create some accountability. This is why I created Sacred Circle Day.
This December 2022 Sacred Circle Day will be inspired by our ability to VISION INTO what we desire. We will enjoy guided meditations & soul-full painting time. I can't wait!
We, you and I who are creatives, Rainbow Warriors…who tune into the subtle energies and dimensions of life right now, can't afford to do this because, as Clara says, "…we were made for these times."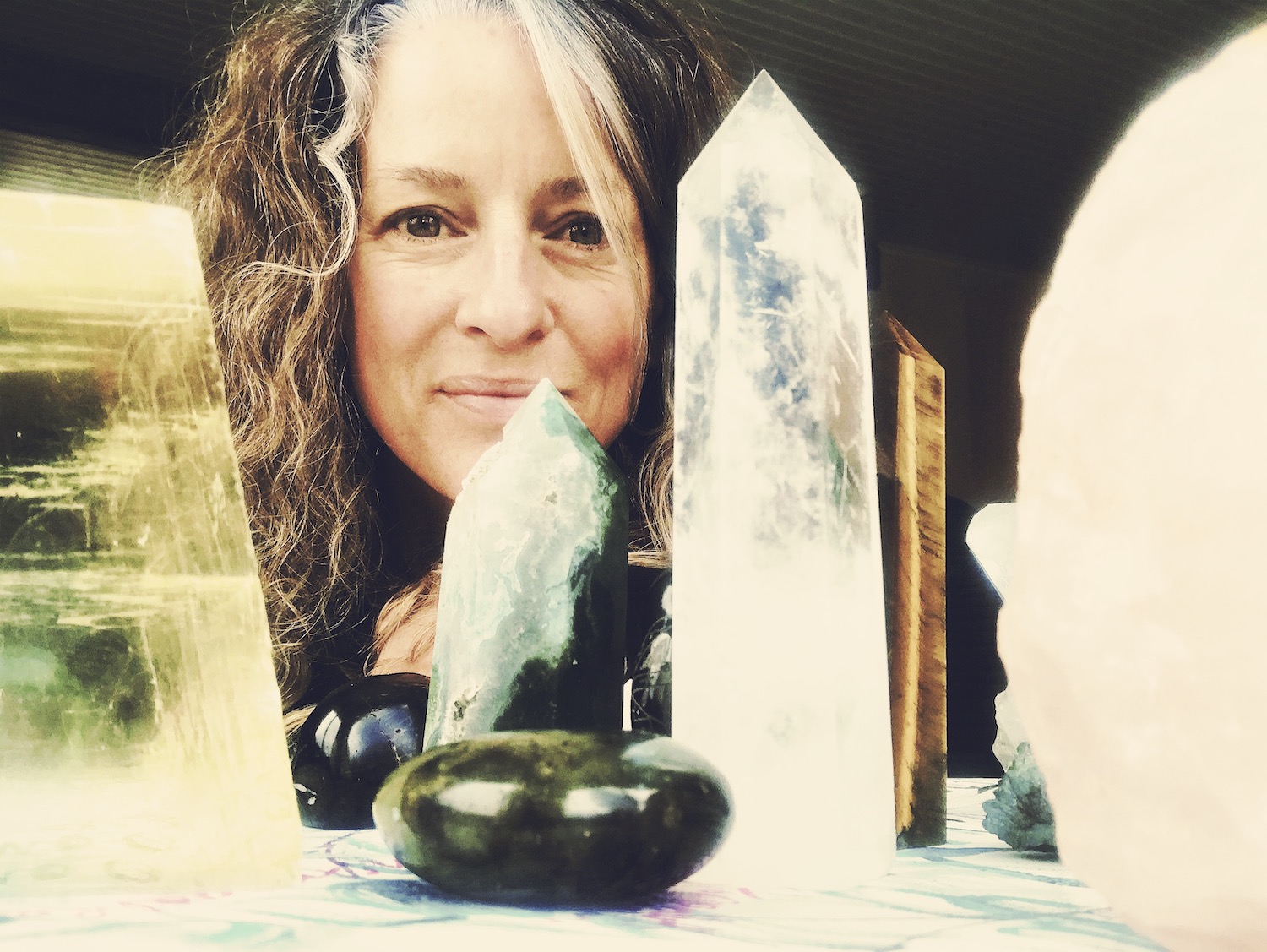 If you have or work with crystals, bring them to Sacred Circle Day to infuse your canvas with their energy.


I want to invite you into sacred space so you can remember this….NOW.

I am excited to share with you an "open studio" experience in which we will create a painting together, layered with intention, sacred symbols and all YOUR magic!

will include guided meditations, sound baths, writing and art journaling prompts, multi-dimensional visioning exercises, work with sacred symbols and PAINTING.
Bring any size canvas, or art journal, art paper, and your acrylic paints.
WE WILL BE PAINTING A MANDALA, so a square canvas or large size paper will be the easiest.

There are 3 x 1.5 hour live Zoom Sessions: which will be recorded.
These will take place on Friday, December 30th :
7a to 8:30a PST
11a to 12:30p PST
2:00 to 3:30p PST
Recordings will be made available so you can repeat guided meditations or create your own Sacred Circle Day on a day that works for you.
If you have attended previous Sacred Circle Days, you will have access to the REPLAYS. To join us live, you will need to pay again. Since you are already enrolled in the course, you can't enroll again. Scroll down to the FAQ's for how to pay.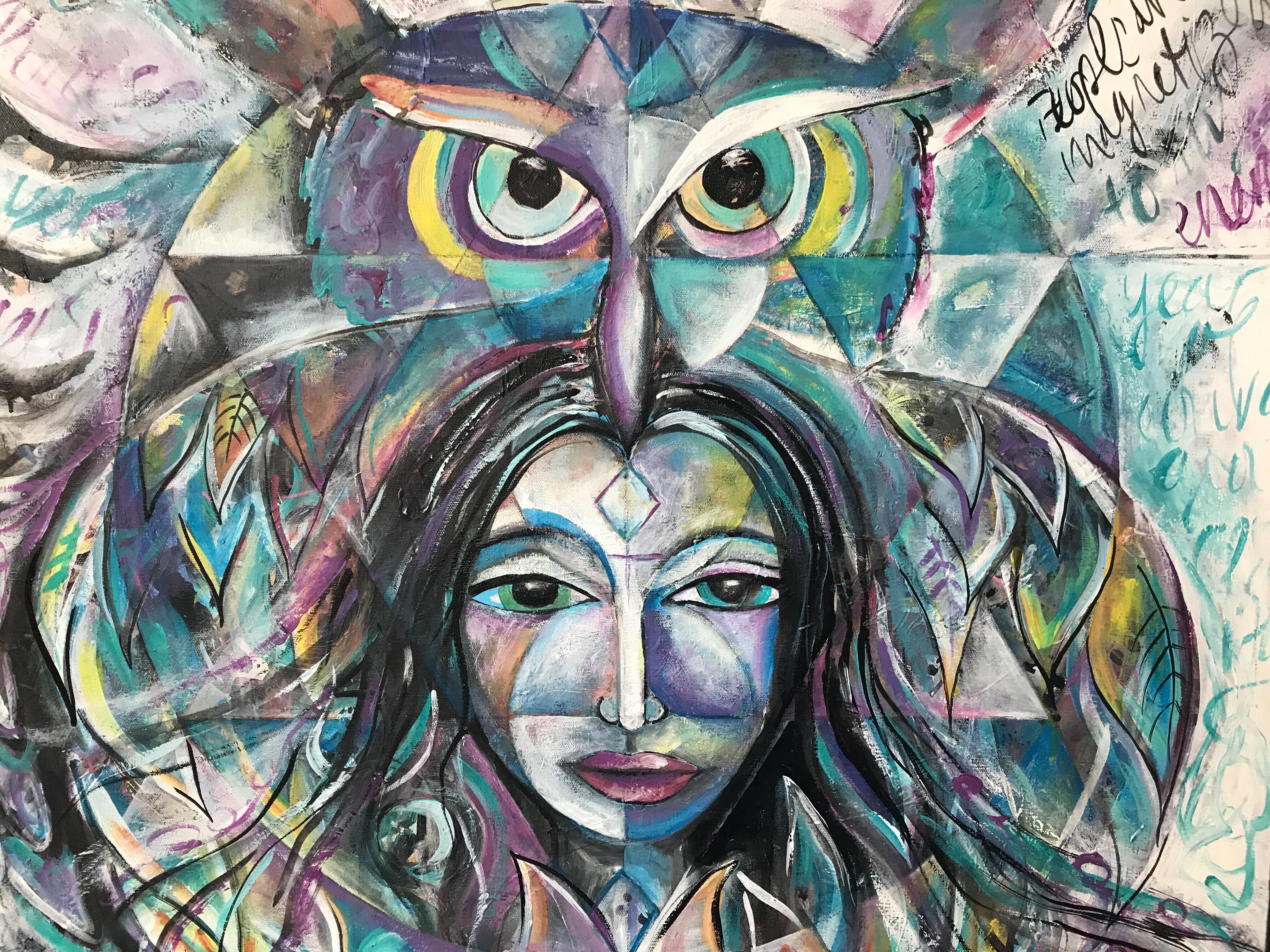 This painting is one that I created in 2019 to magnetize my intention of stepping more into my role as a widely recognized teacher to help others during our transition into the New Paradigm. It certainly feels like it is working! This is the process I will share during our time together on October 11th, 2020.
The difference one intentional, visionary, supportive, loving day can make in a life? …in a year?
It is immeasurable. It can change everything.
Allow me to create space for you to sink into and to emerge from ready to create your most magical personal expression ever.
Below is an example of the mandalas we are going to paint, inspired by sacred geometry, a la Unstoppable Dream.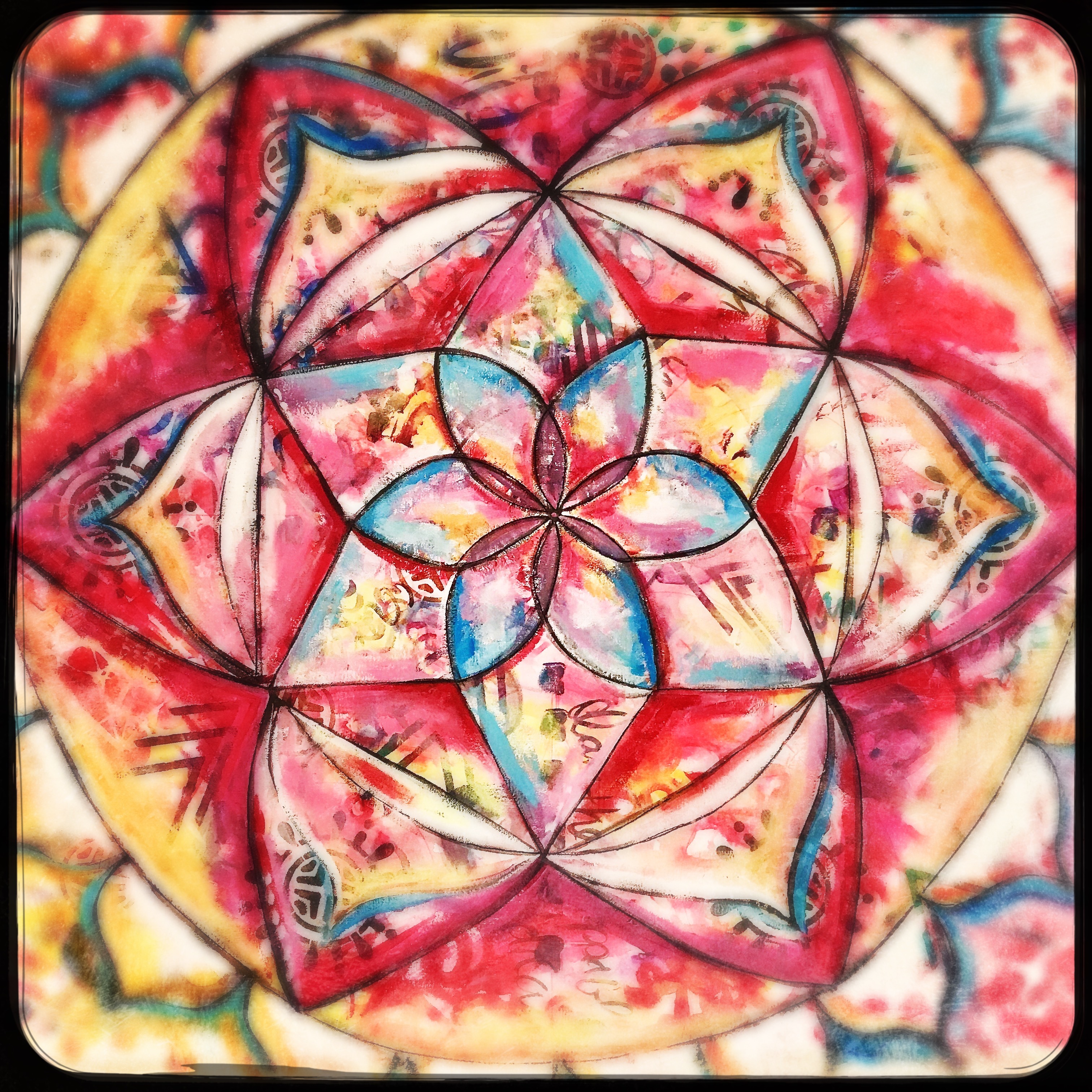 This is an image of a mandala in process from an Unstoppable Dream Retreat with a group of Creatively Fit Coaches.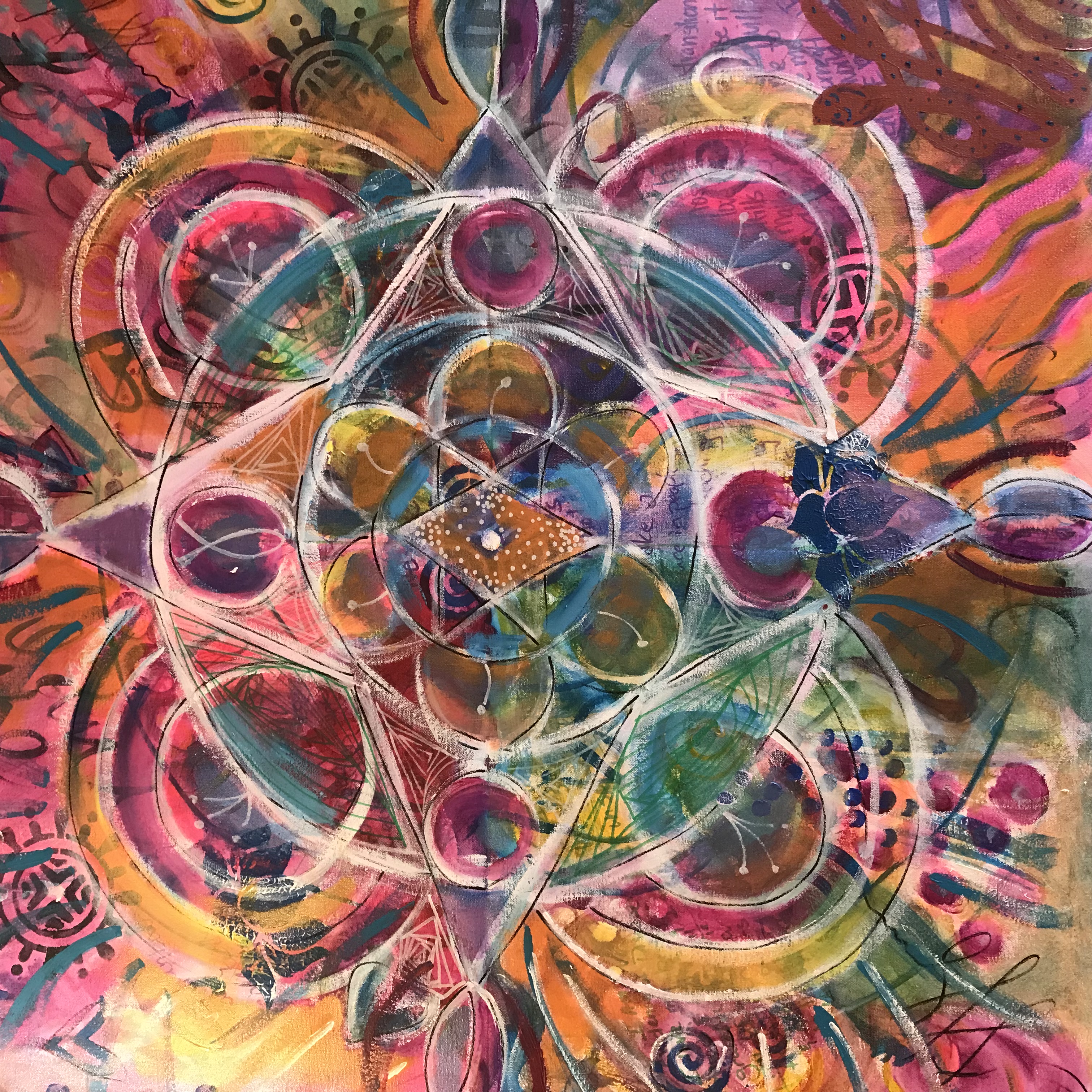 Find out what others are saying about Sacred Circle Day...
"…we were made for these times.
Yes. For years, we have been learning, practicing, been in training for and just waiting to meet on this exact plain of engagement. I cannot tell you often enough that we are definitely the leaders we have been waiting for, and that we have been raised, since childhood, for this time precisely."~ Clara Pinkola Estes
-----
This is what Nancy had to say about our last Sacred Circle Day…"The Sacredness of Sacred Circle Day has no boundaries.....
-----
And Emma...
I'm taking my time and loving being IN color again on the paper ... thank you Whitney Freya for igniting my creative play and to you all for this sacred space today.
-----
And Melody...
"The day was fantastic!! Thank you, Whitney!"
Your Coach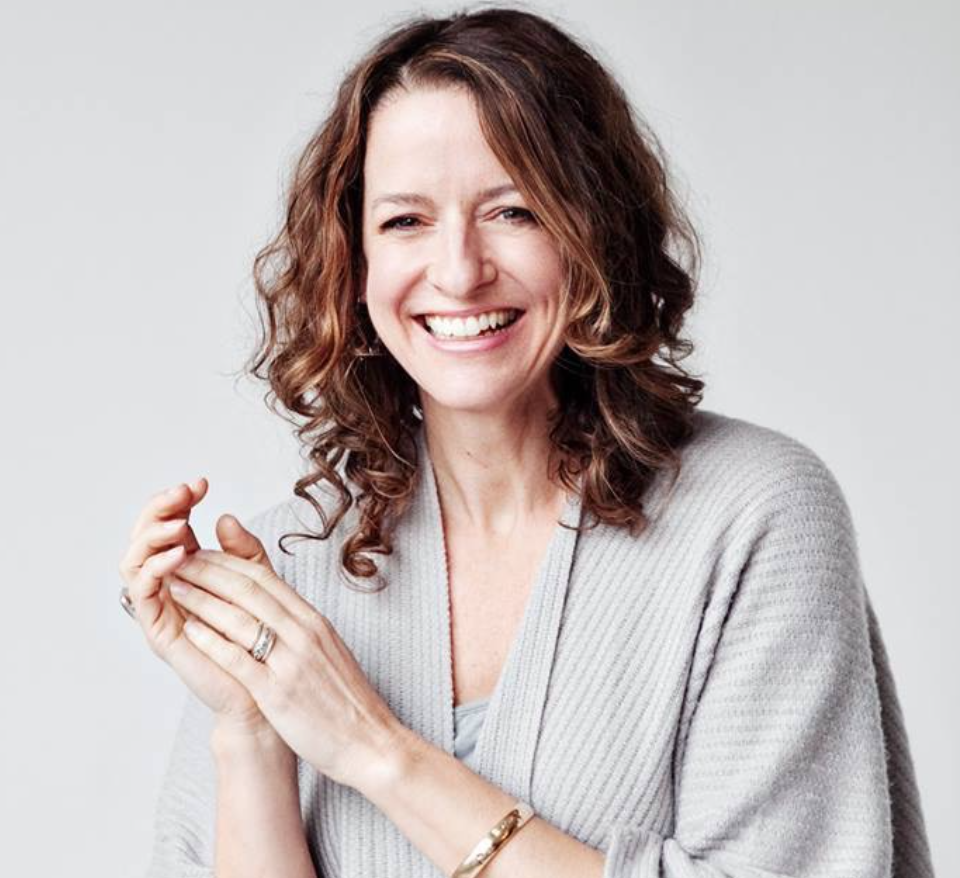 Whitney Freya is a published author, artist, entrepreneur & creative muse. Her latest book is Rise Above, Free Your Mind One Brush Stroke at a Time. It is an explosion of color, painting prompts and inspirational teaching for Life Artists! Her unique approach to personal creativity has garnered her international media attention, including CBS news & appearances alongside Dr. Wayne Dyer, Donna Eden & more. She leads her international team of Creatively Fit Coaches who share her passion for living life as art. Whitney Freya has taught at The Esalen Institute, around the world at creativity conferences, Burning Man, Awesomeness Fest, and at Agape Spiritual Center. A % of her biz proceeds goes to supporting five children at R.I.S.E. Orphanage in Puerto Vallarta, Mexico and two women through the Women for Women Foundation.

Whitney Freya is the creatress behind all the programs here on Teachable. She is supported in Vision Quest + Super Soul Flow by CCFC Master Coach Angela Murray. She devotes her 1-on-1 and personal attention to her Creatively Fit Coaches (in training) and her 1-on-1 clients. Be sure to check out her YOUtube channel as well.

Frequently Asked Questions
What if I am not able to attend the live sessions?
The most important thing is to create space for your reflections and intentions. The entire SCD will be recorded and posted in the online classroom so you can use it at any time. Recordings will be available for AT LEAST one year. AND we will have a private FB group, so if you are not able to join us on the actual day in the live format, you can still share and connect on the FB page.
What if I am not able to attend all three sessions live?
Join us for any of the live sessions that you can. Whitney will post handouts for each session in the online classroom on this site, so you will have an idea of what happened in the session you could not attend live. Come to 1, 2 or all the live sessions. Hop in during session 2 or 3. It will all be perfect.
What do I need for the video meeting room?
Zoom is platform we will use for our online "circle." It is a simple program to use. You just click the link and accept a couple of download prompts and you are good to go. It works with any computer and there are also zoom apps you can use on your phone or pad.
Can I join by phone?
You can join by phone. Of course there are some visual elements, but you will still love SCD via phone. And when you join in, you can choose to have your computer camera on or off. Whitney loves to see your smiling face, AND you can turn off the camera and mute yourself, so you feel most comfortable and / or whatever is going on around you does not interrupt the group. Whitney is super flexible and wants to meet you wherever you are.
Are refunds available if I can't attend?
Unfortunately, no. This program is non-refundable. Since all the replays from previous Sacred Circle Days are also made available to you when you register, there is lots to enjoy even if you are not able to attend live.
What if I am already enrolled in Sacred Circle Day from previous circles?
Yay! So excited for you to join us again. To join in Sacred Circle Day LIVE, you will need to pay the $77. To watch the replays, and not attend live, you don't have to do anything. If you want to join us live (I hope you can) please send the $77 to either https://paypal.me/whitneyfreya or Venmo @Whitney-Freya (-2409 is last 4 digits of my phone.) Thank you!