#24HourPaintJam
Let's BE Unstoppable Together
June 19th to 20th, Solstice 2021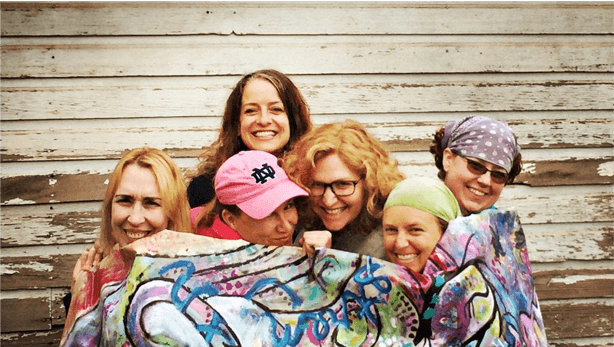 In March 2012, with my three kids visiting grandparents for a week and the house to myself I wondered, "What could I do that I would NEVER be able to do if the kids were home!?"
The "Unstoppable Dream" I was given immediately surprised & inspired me:
"Paint for 24 hours straight!"
So I did.
And I invited anyone and everyone to join me.
Around the world, people have circled up now six times to raise the creative vibration of the planet and to inspire ourselves as Life Artists. We are SO MUCH MORE when we create TOGETHER!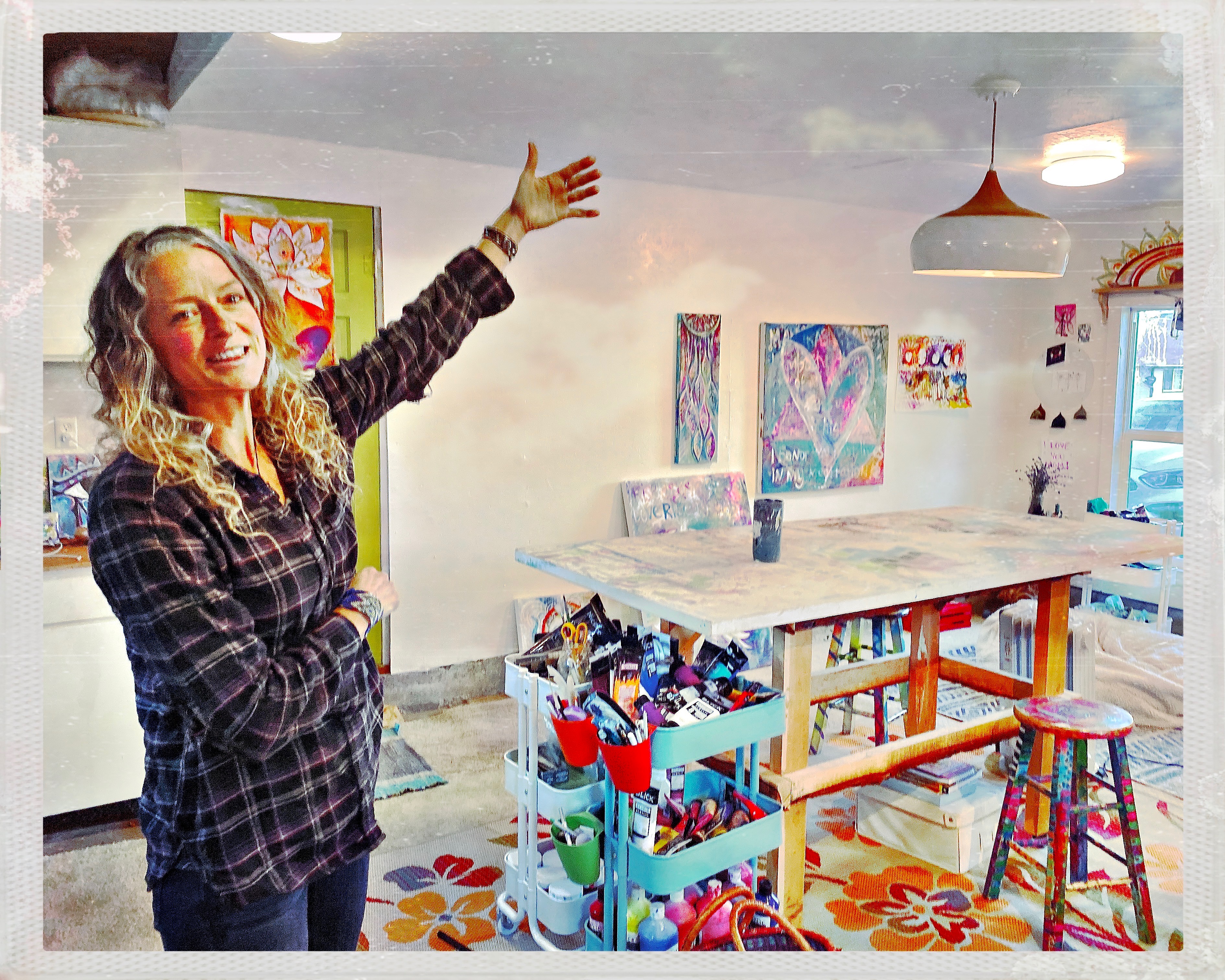 Now, in 2021, YOU are invited to join me and my family of Creatively Fit Coaches to celebrate Summer Solstice (Winter Solstice in the Southern Hemisphere) and our shared commitment to co-creating more hope, optimism, possibility, and FUN around the world!
Besides sharing our 24 hours of creativity together on social media, YOU are invited to join the inner creative circle for 24 hours of painting workshops led by myself and 11 of my Creatively Fit Coaches.
One Zoom link.
24 hours of straight painting workshops.
Join anytime.
Enjoy lifetime access to all the replays.
Push your own creative boundaries TOGETHER!
All for just $33!
We will journey from the USA (and Hawaii!), to Canada, Europe, Africa, Singapore, and Australia!
We will allow the spiraling SOLSTICE energies to inspire our going within to rediscover new passions & desires and then our going without to spread the seeds we want to grow, sing the songs, paint the colors we choose into the art that is our life!
Join us for the full 24 hours straight OR join for part of the day/night LIVE and save the rest for your next creative studio time.
Myself and 5 of my Creatively Fit Coaches will be live streaming during the 24 Hours of workshops from my personal home studio.

Here is just a sneak peek into what you have to look forward to from your instructors...
Paola Fabbri
"Your Unstoppable wild nature"-Join Paola Fabbri - The power of animal symbolism with Paola Fabbri. Paola is Italian and living in the Netherlands. She has had powerful encounters with animal totems through her personal painting practice for years and is excited to share this process of connecting to and learning from our animal allies.
Teraysa Guinasso
"The Deeper Meaning of ALOHA"-Join Teraysa Guinasso for some beautiful Hawaiian AaaaaaaHhhLllllOoooooHAaa, straight from Maui. In this special segment we will explore the sacred meaning embedded within the word Aloha, as taught by one of my very own Hawaiian Kupuna. And, you'll discover how the word is built into the Hawaiian State law. We'll do this as we play with our paints and create an expression of our new understanding so that we can share this wonderful Aloha all around the world. "Can't wait, this will be fun! Aloha & Mahalo." ~Teraysa
Michelle Stephens
"Dream Big with Mandalas" Michelle Stephens lives in Seattle, WA. In her words:." In this two-hour heART-led workshop, I will guide you on a creative journey where we will paint intuitively even if you have never painted before. You will learn how to express GRATITUDE at the canvas as a way of shifting energy from fear and self-doubt to (SELF) LOVE and POSSIBILITY.

You are SO much more than the worry, stress, and limiting beliefs you carry inside you. I will share how you can use this mandala painting practice to release what no longer serves you so that you are able to move forward focused on the abundant changes you want to make in your life.

The mandala represents the unity of all things and a deeper connection to oneself and your painting will serve as a reminder of your willingness to show up for yourself and the positive ripple effects that showing up for yourself can have in your life and in the world. It will remind you that your dreams are ACHIEVABLE with the right intentions and actions!

I love witnessing the powerful transformation that happens deep within when we harness the power of creativity to live our most inspired life and can't wait to share this fun and nourishing painting practice with you."

Nadia Munarolo-Kurjata
"SALUTE THE SUN" -Join Nadia Munarolo-Kurjata from Dawson Creek, Canada (where the Alaskan Highway begins) and dip your toes into something she is MOST passionate about - the daily practice!

Solstice translates to SOL-Sun and STICE - Stillness

We will begin in stillness with a simple breathing technique and explore a hand Mudra to honour the longer days and hotter sun.

Moving from stillness we will LIGHT up the canvas with color and marks incorporating yoga asana (poses).

Trust in your unique expression! Bring curiosity and experience freedom on the canvas! Play and witness your LIGHT coming forth right before your eyes!

Get fired up with the energy of the sun!

We will end with an invitation on how to use your canvas as a YANTRA moving forward and how to use it in your "daily practice" to support you in creating the life you desire!
Gideonslight
"Creative Bliss" -Experience creative bliss through a creative expression painting journey at the canvas with Gideonslight!

Raise your creative vibration through a painting meditation as we paint the cosmic spiral... in all 7 colours of the chakras and then seal this vibrational "tune-up" with the symbol "OM"

The "OM" is considered the highest vibration, the sound that birthed all of creation! It is the all encompassing cosmic vibration of the Universe.
Antonella Bargione
"Falling into the Mystery" -Join Antonella Bargione in Zimbabwe (or she may be in her homeland of Sicily) to harness the forces of the elemental powers through the medicine wheel. Painting our own medicine wheel is one of the first steps to become conscious of our own power to bring change in harmony with Nature into our life and therefore the world.
Colleen Talbot
"Painting your medicine woman" -JoinColleen Talbot in Australia to take a painting journey into deep connection with your own personal medicine woman, aligning with the essence of what we want to create in our lives, and allowing the painting process to deeply emody this upleveling of energy. Here we will ask our "medicine woman" guide to hold this Dream for us while we receive wisdom and guidance through painting her.
Estelle Thomson
"Colorful Mark-Marking" We will begin the experience with a 10 minute Nurture your Creativity Meditation and painting your breath exercises. Then let's get our watercolors out and get making marks! From dots, to lines, to spirals. Learn powerful painting meditation tools for intuitive and expressive painting at it's best. Expect connection and inspiration.
Angela Murray
"The Art of Gratitude with Angela Murray "The process of manifesting the good things in life all start from the practice of being grateful."

What more perfect a location could you think of to learn about manifesting and the Art of Gratitude than The Bay of Plenty, New Zealand.

Join Angela from her studio in the "Land of the Long White Cloud" which gratefully greets the first sunrises on our planet each day, to learn a simple process to increase inner peace, mindfulness and attract the good things in life.

We begin by meditating on the things in your life you are grateful for, opening up your heart, uplifting your spirit and connecting with the larger universe of all living things.

We will explore creative techniques for maintaining a simple gratitude practice, while learning how to infuse this super high vibrational energy into your artworks through the sacred symbol of Gratitude.

Manifesting what you most desire in life begins by simply saying Thank You, so THANK YOU for joining me!
On the Eve of our
24 Hour Paint Jam…
You will receive the ONE Zoom link that you will use for all 12 painting workshops! How easy is that!?
Every second, each brushstroke, will be recorded, so you can join us live when you can and enjoy the replays HERE in our ONLINE STUDIO any time your heART desires with lifetime access!
Join us for this SPECIAL EDITION #24HourPaintJam
Around the World, One Brush Stroke at a Time!
We can't wait to have you along with us on this around-the-world journey.